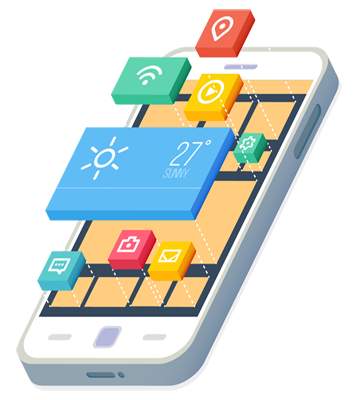 Web Design and Development
Responsive, interactive, simple and user friendly designs.
Having a website for a business these days is a mandate option and also it adds a more value to your clients and other to know about what your business does in creative and structured way. Though one can easily create social media accounts to take their business to millions of people, yet every business owner is looking out to have their website like having a name board for their company.
But a lot of business ownwers and clients we come across are not aware of any IT stuff and they end up handing over to people who don't just build a perfect business website that they want.
Just couple of months back we did a survey to find out whether each business website out there have been build in such a way it is helping their business. We were shocked to find out that over 70 % of websites are updated, but don't have right business content added, not representing their teams,not optimized, not SEO friendly and not hosted on right servers based on their content and reach to audiences.More interestingly we found out that business owners don't have clue about these technical aspects as they are happy to see their website online and live, but these website making companies have not done a good work which impacts their business.
In Dowmap we ensure that when we start working on our client's website we update them on period basis on the progress of their project and what each implementation would be impact their business.
Optimization
This is as important as building your website to ensure that it loads faster when access from any part of the globe. We use advanced tools and techniques tools to achieve optimization of each resource used to build the websites.
SEO
Every website is created for an obvious reason:Building a business and gaining omnipresence, so people can reach you easily. Making website to show up on a random google search is not an easy task, but we understand every business owner wants that badly. Therefore we also help you out with services such as SEO, Google Adwords, PPC and other online marketing strategies mentioned in Digital marketing section, which helps in boosting your website.
Significance
Web development adds a lot of value to your business, there are clients who end up partnering with software companies to grow their business. At the same time we also hear from our clients that the mistakes they have made in choosing the wrong hosting plan, average developer,UX which is not much appealing to customers and website not optimized to non-SEO friendly. Developing a website is easy, but making it business-compatible is not an easy job. Clients should ensure that they understand enough and get what they are expecting from their developers.