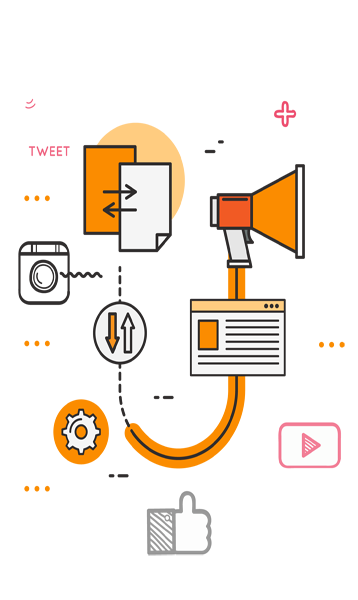 DIGITAL MARKETING
Powerful insights which helps clients place their products across the world.
Before you can start selling to your audience, you need to know who your ideal customer is, where they are, and what they will buy. Today we have memes, signals, buzz, click-bait, trending posts, hashtags – and so much more. However, the goal is still spreading out content very quickly through the online world by making it eminently shareable. The concept is still the key to your brand on the internet.
Facebook has an average of 1.15 billion mobile active user's everyday! Advertisers are aware of this and are using the digital world to put themselves in front of their market. Companies are realizing all of the added benefits that digital marketing has to offer. One great benefit to go digital is the ability to track in real-time how your ads are performing. You can quickly see if your audience is responding positively or negatively to your ads and you are able to change your ad quickly to attract your audience better.
With digital marketing, the ability to split test is much easier. Two different ads can be running at the same time and you are able to compare the two ads to see which performs better which enables you to create better ads.
Power
Social media marketing has the ability to advertise to more targeted audience. In addition to the more qualified traffic, the associated costs are less. Companies can spend $5 million on their TV commercial for 30 seconds of airtime or spend much less on a platform such as Facebook and receive the same amount of engagements on their site, and likely an increase in conversions. Think about how much further that $5 million dollars would go on a platform like Facebook that is way more targeted and easily tracked. The return on ad spend value is much higher on digital marketing platforms.
Strategies
Every marketing campaign has different objectives. If your objective is brand awareness, then TV marketing may be the best option for your campaign. If your objective is to make sales, however, then putting a digital ad in front of your target market on social media might be the best way to go.
Brand Awareness
From Google to Facebook, brand is increasingly being tapped to affect page rankings and SEO. Not only will customers make their decisions about your brand based on your profile information and connected reviews, they will see your profile more often these days based on what they are searching. Consumers are making their brand decisions after seeing only a few pieces of content available in their preferred channels – and later it is depending on their interest and conversions. What does this mean for you brand? It means that multi-channel content and consistency are both very important. You need all of your content to have the same tones and brand messages (and colors, fonts, professionalism, sensor of humor, etc.) so that every consumer is getting the same idea about your company.